28/11/2022
Pink Floyd, Breathe
Autechre, Basscadet (Basscadoublemx)
G-File (Andrea Parker remix), Overtime
Acid Scout, Outro
Ben Long & Jamie Bissmire, The Russian
Count Basic, Speechless-remixed by Peter Kruder
Portishead, Mysterons
Cujo, The Sighting
Terranova, Sublime
Stereo MC'S, What is Soul
Depeche Mode, Useless
Roupe, Joe Baxi!
Boards of Canada, The beach at redpoint
Publié dans Musique | Tags : triphop, electronica, electro, techno, hiphop, djane ki, dj ki, pink floyd, autechre, andrea parker, acid scout, ben long, jamie bissmire, count basic, portishead, cujo, terranova, stereo mc's, depeche mode, roupe, boards of canada | Lien permanent | Commentaires (0) |
| |
01/08/2022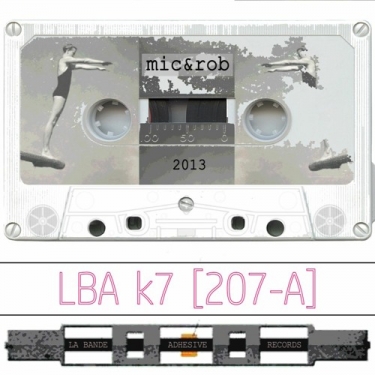 Previously released as "Garden Of Delights Vol.1 & Vol.2" (2013 & 2017) and mixed live in Marseille (Le Cabaret Aléatoire) by mic&rob :
Publié dans Musique | Tags : ambient, dub, jazz, electronica, mic&rob | Lien permanent | Commentaires (0) |
| |
27/04/2022
4 titles E.P celebrating electronic music,thru cinematic, ambient, experimental fields.
Written, produced and mixed by Djane Ki
Publié dans Musique | Tags : dj ki, djane ki, madame ki, electronica, cinematic, ambient, experimental | Lien permanent | Commentaires (0) |
| |
03/01/2022
Designed mixtape, "Not That Calm" is the third down tempo story of a deluxe series.
Wrought by DJane Ki, 2022
Mastered and sponsored by Dj Bouto

01- FKY_Untitled [TNL]
02- Jimi Tenor_Kallio [Warp]
03- Radio Head_Pulk/Pull Revolving Doors [Not On Label]
04- Flying Lotus_Spicy Sammich [Warp]
05- Prefuse 73_The End of Biters-international [Warp]
06- Plaid_Coat [Warp]
07- Red Snapper_Some Kind of Kink [Warp]
08- Two Lone Swordsmen_Tiny Reminder No2 [Warp]
09- Ezekiel_Strange Days [Jarring Effects]
10- Rocker's Hifi_Going Under- remixed by K&D [Studio !K7]
11- D'Arcangello_Manta [Rephlex]
12- Aphex Twin_Come To Daddy [Warp]
13- Funkstörung mit Jay Jay Johanson_I Want Some Fun [Studio !K7]
14- Aphex Twin_Windowlicker [Warp]
15- Two Lone Swordsmen_Brootle (Stimulant Remix) [Warp]
16- Autechre_Drane2 [Warp]
Publié dans Musique | Tags : djane ki, electronica, downtempo, triphop, hiphop, fky, jimi tenor, radio head, flying lotus, prefuse 73, plaid, red snapper, two lone swordsmen, ezekiel, rocker's hifi, d'arcangello, aphex twin, funkstörung, jay jay johanson | Lien permanent | Commentaires (0) |
| |
05/09/2017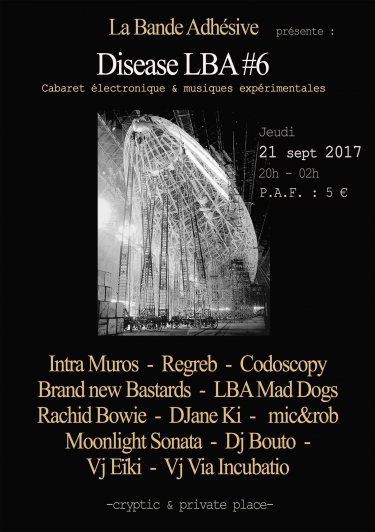 RDV du Collectif La Bande Adhésive, « Disease LBA » est un Cabaret de musiques électroniques & musiques expérimentales, présenté –comme son nom l'indique- sous forme de courtes prestations.

Au menu : tourne-disques, machines analogiques, appareils magiques et curiosités en tous genres, instruments acoustiques, le tout arrosé d'images virtuelles.
Le concept est le suivant : présenter dans une ambiance cosy les différentes formations et artistes issus du Collectif, pour le plus souvent en situation d'improvisation.

LBA est heureux d'accueillir pour sa 6ème édition Regreb par ailleurs membre de Burstscratch et de Suboko, le trio Codoscopy avec notamment le Vj SVDK, et Intra Muros, constitué des compères Moldav et Polemik Viktor.

Avec :
20.00 > Dj Bouto > Dj set Electronic
20.30 > Regreb > Solo cymbales
21.00 > Moonlight Sonata > Dj set Techno Dub
21.30 > Codoscopy > Trio / Performance audiovisuelle
22.00 > mic&rob > Duo / Live XP
22.30 > DJane Ki > Dj set Cinematic
23.00 > Intra Muros > Duo / Live improvisé
23.30 > Brand new Bastards > Duo Live improvisé
00.00 > Rachid Bowie > Dj set Transe Rock
00.30 > LBA Mad Dogs > LBA all-stars / Live XP improvisé
+ All night long : Vj Eïki (vjing numérique) et Via Incubatio (vjing analogique)
Publié dans Film, Musique | Tags : idm, electronica, experimental, impro | Lien permanent | Commentaires (0) |
| |